Mouse over the pictures for commentary.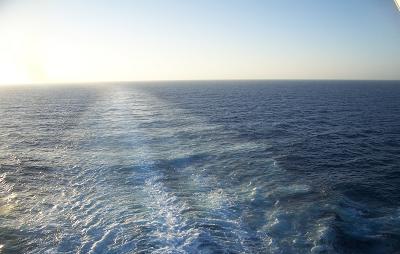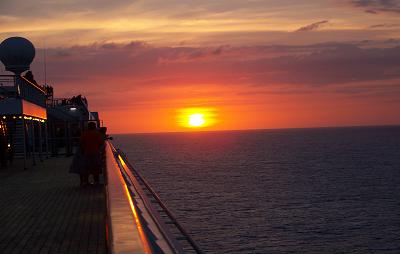 Caribbean Cruise, by Jennifer Gross




May, 2009





Day 1, Sunday, 3 May



After a dreary start and drive down to Galveston, the weather turned nice when we arrived at the cruise 
terminal.  Aside from some roof damage and some boats in very odd places, this part of the island 
seemed relatively unscathed from Ike.  After about an hour of security, check in, etc. we made it on 
board around 1 PM and ate a quick lunch on the Lido deck.  We then retired to our cabin until the 3:30 
muster drill, which consisted of us standing next to the lifeboats with our life vests on with all of the 
other passengers for 30 minutes.  Out of consideration for spreading germs during the great swine flu 
ďpandemicĀEthey told us to bump elbows with people instead of shaking hands.  There was giggling.
After our escape from Deck 4 we returned to our balcony to watch the ship leave Galveston.  Our 
stateroom was larger than Iíd expected, and it was a magnificent study in tackiness, with salmon pink 
accent trim and gold leaf paintings.

We had some time before our 8:15 dinner, so we checked out the public areas of the ship.  Alfredís bar 
was dark and quiet, and featured cigars and a pianist.  The atrium was beautiful and had a bar and also 
some live music.  Deck 5 had most of the indoor entertainment venues, including the casino, cafĀE disco, 
lounge, and a sushiya.  We also walked the length of the outside deck, which was very windy while the 
ship was moving.  There are two exterior pools: the main pool and what we dubbed ďthe old people 
pool.ĀE Only the OPP was functional on Day 1.

Dinner was in the Renior restaurant, and since we had a somewhat early and small lunch we were quite 
hungry.  I had tomato soup, fried shrimp with Asian noodles and sweet and sour sauce, with chocolate 
molten cake for dessert.  Matt had the flat iron steak and black forest cake.  The food was quite good 
and we were definitely not hungry after dinner.  We were quite tired, though, so after a sip or two of 
champagne in our cabin we were both ready for bed.



Day 2, Monday, 4 May



I woke up early and managed to drag Matt out of bed before 9 AM.  We went to breakfast in the Monet 
dining room and decided to partake in some mid-morning sunbathing.  We were going to swim in the 
OPP (the main pool was very busy), but I stuck my toes in the side and it was freezing, so I decided to 
not go in.  After lunch we drank a cocktail out of a cup shaped like the ships funnel and watched an ice 
carving demonstration.  The cruise director asked people to guess what it was going to be as the carver 
worked.  Some suggestions: ďfun shipĀEfunnel, whale, eagle, peace sign and penis.  It was an angelfish.  It 
was very sunny on the Lido deck, and, fearing a sunburn, we retreated inside and finished our cocktails 
in the atrium and listened to music.  The cocktail and the sway of the music made me sleepy, so I quickly 
fell asleep back in our cabin while Matt played videogames.

It was the first formal night, so we dressed up and headed to Deck 5 for coffee and the captainís 
reception, which featured free booze.  After that I changed into my blue dress and we headed to dinner 
at the Point supper club.  It cost extra, but it was worth it.  We didnít want to drink any more after the 
reception, but we still had a hors díoeurvre, appetizer, salad, main course, and dessert.  I had a piece of 
salmon, a crab cake, Caesar salad, surf and turf, and fruit.  Mattís complimentary thingy was not 
identifiable by me, and he had a porterhouse steak and onion soup for his entrťe and starter.  The crab 
cake was moist and flavorful, with a lot of crab.  Iíd never had lobster before, and it was good, but I still 
prefer crab.  The filet was tender and very moist.  The salad was made at our table and the dressing was 
one of the best Caesar's I've ever had.  We were so full we had to skip the final compliment and headed 
straight back to bed.



Day 3, Tuesday, 5 May



We got a little singed by the sun yesterday, so we decided to spend the day inside.  After breakfast, we 
ordered a shore excursion for Jamaica, which we reach tomorrow.  At lunch we were visited by a 
magician that was quite good.  I can't even describe the trick that he did, you just have to see it.
After lunch we visited the art auction, but we didn't find anything we wanted to purchase.  We had 
afternoon tea with classical piano music, then we attended a mixology class at one of the (many) bars.  
The class was generous with the samples, so I was well lubricated by the end of it.  My favorite drink was 
the Washington apple martini, which has Crown, Apple Pucker, and cranberry juice.

After the booze class we went to the evening show, which featured a Motown-style vocalist and it was 
actually pretty entertaining.  We had dinner in the main dining room.  I had French onion soup, penne 
mariscos, and strawberry cheesecake.  Matt had sushi, jerk pork loin and a fig and date cake.  Matt 
accidently ate like half of the wasabi at once when it stuck to the bottom of his fork.



Day 4, Wednesday, 6 May: Montego Bay, Jamaica



We woke early to the sound of the side thrusters maneuvering the ship into the dock.  After a quick 
breakfast we headed to shore to take in the local sights.  Our first stop was at a craft market filled with 
very pushy women trying to sell all kinds of knickknacks.  We did find a wooden cat that shall adorn our 
mantle.

We didn't find the never-ending array of tourist shops all that interesting, so we headed back to the ship 
to eat lunch and rest before our horseback riding tour.  The ranch was about 30 minutes away, but the 
driver kept us entertained with information about the local economy and way of life.  The horseback 
ride itself was about an hour through the dense forest, followed by about 10 minutes of horseback 
swimming.  Matt's horse didn't like him, so he had a tough time getting the horse to go.  Mine liked to 
try to bite the tour guide's horse, and finally succeeded in getting him on the butt.  Riding on the horse 
while it swam was a unique experience.

They took out fresh horses that had no saddles on them, and it was kind of hard to hang on and sit 
comfortably, but that was quickly forgotten when we got into the water.  One of the land horses really 
wanted to come with us.  She came down to the waterís edge with us.  One of the handlers yelled ďCurly 
Tail, you can't swim!ĀEand came and pulled her back to the stables.  The water was warm and 
comfortable after a long, hot day.

We got back to the ship about 45 minutes before it was time to set sail.  We cleaned up and got some 
booze at the lobby before returning to our balcony to watch the ship leave port.  We couldnít quite see 
the sunset from our balcony so we headed to the Lido deck to get a good view.  The evening show was a 
magic/dance show, which was extremely good.  That woman was all muscle.
Dinner was once again very good.  I had fried mozzarella and a seafood platter with lobster sauce.  
Dessert was strawberry cheesecake.  After dinner we relaxed at the virtually deserted hot tubs before 
heading to bed.



Day 5: Thursday, 7 May: Grand Cayman



I was a little sore after yesterday's riding, but we had to get up early none the less in order to make it on 
shore in time for our 8:30 AM kayaking excursion.  Unlike Jamaica, which has deep water close to shore, 
the water around Grand Cayman is very shallow near shore, then drops off suddenly about a quarter 
mile off.  The shop was too big to dock in the shallow water, so it was parked a bit off and we were 
ferried, or tendered as they called it, to shore.  They told us the process could take 45 minutes.  We 
were on the pier in 10.

Georgetown, Grand Cayman's capital (and only) city, was clean and relatively quiet.  It is immediately 
apparent that the Caymans are much wealthier than Jamaica.  It was also much smaller and flatter.  
From our balcony on the ship you could see the water on the opposite side of the island.  The water was 
warm and crystal clear.

We met our tour representative and our fellow kayakers: one couple about 10 years older than 
ourselves, a man in his late teens/early 20s and his grandmother, a couple in their 50s and a couple in 
their 70s.  We took one look at the very elderly couple and knew there was no way they were going to 
make it.  We were quickly proven correct: they didn't even make it off the beach before the guild had to 
tether their kayak to his.

There were several shore excursions meeting at the same time as ours, and we were both glad that we 
picked a more active tour.  While our group was only 8 people and yesterdayís was only 6, there were 
tours leaving that had at least 100 people on them.  The pier in general was very busy since the 
Conquest and the Inspiration were both in port today.  The Inspiration was not originally scheduled for 
Grand Cayman, but she was diverted due to the swine flu scare.  Our ship was prettier.

After a brief and pleasant drive through town and along the beach (and some very expensive homes) we 
arrived at the beach where the kayaks were.  We were worried that we were a little out of shape for this 
tour, but it became quickly apparent that we were the best rowers of the bunch.  Our poor tour guide 
had to haul the old people the whole way.  It was at least a mile round trip.

We went along the shore and got to see the mangroves up close.  Some were hurricane damage, but 
there were some in extremely good condition as well.  We also got to see some fairly docile bottom-
dwelling jellyfish.  None of us took up the guideís offer to hold one.  We rode out to a snorkeling 
platform.  We weren't out far enough to see the main body of coral, but there was a small piece nearby 
that was home to a variety of fish.  And sea urchins.  Donít step on the sea urchins.

We returned to the pier tired and hungry.  We brought no cash to shore, so we returned to the 
Conquest for lunch.  It wasn't long after we returned to our room when we fell asleep.  Matt (finally) 
finished Final Fantasy Tactics, then found out he could save the game in combat, so Iíve spent half the 
cruise waiting for him to quit playing the damn game so we could go somewhere, when he couldíve 
saved it at any time.  Grr.

After the nap/game playing, we headed to Alfred's for drinks.  I was extremely sore, so alcohol was 
much appreciated.  The evening show was a variety hour of Chris (the cruise director that weíve decided 
cannot possibly be a real person) singing, a guitarist, and a comedian.  Dinner was chocolate melting 
cake, pasta, and corn chowder (not in that order).



Day 6, Friday, 8 May



We were supposed to go to Cozumel today, but it was skipped due to the swine flu scare.  Still no 
zombies.  Except Chris.  After breakfast we attended a presentation on Carnivalís 2010 Alaska itinerary.  
Iíd considered going to Alaska for this cruise, but the ĀE9 itineraries were too long and one-way.  Next 
year they're doing a 7 day round-trip cruise out of Seattle.  After the presentation Matt and I (okay, 
mainly me) were convinced that we wanted to go.

Today was pretty sedate.  The nice, cool breeze we're had the entire trip has been replaced with a hot, 
humid stillness that has limited my desire to be outdoors.  We had pizza on the Lido deck, and sushi and 
coffee before the evening show.  We also attended a screening of a Disney/Dali collaboration called 
Destino, and we once again enjoyed tea time.

Tonight was the final formal night, so we had our pictures taken before dinner.  I had chicken noodle 
soup, veggie lasagna, and apple pie.  Before that was a musical revue show, which wasn't bad but not 
really our thing.  We were going to go see the comedianís R rated show, but the lounge was so full there 
wasn't even a place to stand.